The Sound of Music 🎼
ameet
How was your summer?

anthony
It was good. It was really tiring opining on tech once a week so happy to have time to recharge the batteries.
ameet
That's good to hear.
ameet
Warm, relaxing, and devoid of successful consumer tech IPOs.

anthony
We had Blue Apron IPO but that wasn't too hot. The rest of 2017 isn't looking too great either.
ameet
Alright, let's get into it:
ameet
Spotify Prepares for NY Listing
Spotify is now considering a listing on the NYSE instead of an IPO. The music-streaming service is said to be negotiating with debt holders to change its bond terms in preparation for a listing. Spotify was valued at $8.5bn at its last equity funding round in 2015.
ameet
After the mixed performance of the APRN and SNAP public offerings, this one is going to be very closely watched.
ameet
So, what's going on with this business:
ameet
The Verge
Spotify has more than 60 million subscribers now
The streaming service continues to grow before going public.

anthony
I'm surprised at the consumer shift to paying for streaming music. Never thought this day would come so fast after years of piracy. I remember my college days when I was always looking for megaupload or torrent links for new music.
ameet
I feel as though for many years Spotify was kind of in a class of one when it came to music streaming. Pandora has obviously been around for a while with mixed success of late, and Souncloud has had its own share of well-publicized struggles.
ameet
Suddenly we're in a world where everyone's favorite giant tech companies are getting in the game with YouTube Music, Google Play Music, and Apple Music. The question for me is whether Spotify can play against these heavyweights.

anthony
Good question. Apple Music has grown pretty quickly.

anthony
Recode
Apple Music now has 27 million subscribers
That's up from 20 million in December.
ameet
The competitive problems I see here for Spotify here are twofold:
ameet
1) A company like Apple or Google can just bolt-on streaming music as a feature to their existing product suite and immediately get it in front of hundreds of millions of people
ameet
2) A company like Apple or Google has a super healthy business that throws off a ton of cash which can be used to build out a formidable music streaming product, so they don't actually need to worry about ever turning a profit on streaming music
ameet
They obviously want to get a good deal from a content acquisition standpoint, but for Spotify succeeding in streaming music is life-or-death.
ameet
The clear next question here is: what do we think are Spotify's points of differentiation or sustainable competitive advantage (to the extent that it has any)?

anthony
Before we do that, I want to dig deeper into how I think companies like Google and Apple are positioning their music streaming strategy.

anthony
Google and Apple are always looking to increase usage or engagement of their products.

anthony
1) Google needs their users to continue to use their products as a way to sell more ads

anthony
2) Apple wants their users to use more adjacent Apple products to increase ecosystem lock in

anthony
These big tech companies see their music streaming product as a moat for their core business (selling ads and phones). For these firms, they will trade lower margins for increased usage from their existing customers.

anthony
Google and Apple aren't trying to lose money on these endeavors but are more willing to be flexible on royalty fees than a pure-play streaming music company. For Spotify, a few percentages points on royalty fees can make or break the business.
ameet
What are those royalty fees then?
ameet
Let's find some data.
ameet
musically.com
Spotify financials reveal a 539.2m net loss in 2016
Spotify has published its financials for 2016, and they reveal that the company's net loss increased from 231.4m in 2015 to 539.2m ($601.4m) last year.
ameet
ameet
So the situation here is that in 2016 Spotify generated 2.9 billion Euros in Revenue, of which they paid out 2.5 billion Euros in COGS.
ameet
Or, for every dollar of revenue that Spotify generates, they pay out 85 cents to labels and artists with the remaining 15 cents for everything else. That is a super precarious position to be in.
ameet
This gets even more negative when you look at the breakdown:
ameet
ameet
For paid users like me who are giving Spotify $10 per month for unlimited ad-free streams, they are paying out 82% of every dollar to content owners. But on the ad-supported side of the business, they are actually paying out more in content costs than they are getting in ad revenue.
ameet
Presumably the idea is that the Ad-supported business is like a "freemium" model to then eventually compel users to upgrade to Premium, but they still want to give users a good user experience so there's a cap on the maximum number of ads ads they can display to these unpaid users.
ameet
I'm sure internally they are working on superior ad-targeting technology so they can charge advertisers a premium to get in front of these unpaid Spotify users, but at this point it's hard to judge what the efficacy of that might be.
ameet
Also look what I found on the Spotify web site:
ameet
Subscribers: Over 60 million (as of July 2017)

Active users: Over 140 million (as of June 2017)
ameet
Does an advertiser want to pay a premium to get in front of 80 million unpaid Spotify users? Given the trouble that Snap is having with more than 2X that, it's a tough value proposition.

anthony
So the economics of the business don't look go great. Music labels have learned how to play the streaming music game by maintaining their own healthy margins on streaming rights at the expense of companies like Spotify.

anthony
With Spotify getting pressured on margins by competitors and the record companies, how can Spotify really differentiate themselves for long term success?
ameet
From a product standpoint, one of the features that Spotify killed which I thought was a huge mistake was Inbox. I really enjoy the social aspect of Spotify and that it has that scrolling "feed" of what my friends are listening to.
ameet
I think that they should really double down on the social features of Spotify and leverage the Facebook social graph to improve personalization, like a continually-updated playlist with "here's what your friends are listening to", or helping new users get up to speed by suggesting playlists that friends have created, or really pushing the collaborative playlist feature. That's a good way to get users locked into the platform; I definitely don't want to move to Apple Music now that I've built up all these awesome playlists in Spotify.
ameet
Google has shown that they don't do very well at social, and Apple doesn't have a dog in this fight at all, so this could be a way for Spotify to get ahead of these guys.
ameet
This is assuming that all platforms have access to the same content, which I'm not totally sure if they do.

anthony
Trying to build your social graph on the back of another social network like Facebook seems tenuous at best. We've seen Facebook make a push into professionally produced video content, what is stopping them from moving to music and limiting Spotify's access to their social graph (however unlikely)?
ameet
I'd say that the possibility of Facebook building their own streaming music service and shutting off Spotify's access to the Facebook API should scare Spotify quite a bit. But in today's world they should extract as much social data as possible to encourage users' investment in the platform (through playlist building and music taste signaling) with the ultimate goal of increasing the cost of switching to a competing streaming service.
ameet
But yes, unfortunately for Spotify, Facebook also has a super healthy ad business that throws off billions of dollars which they can light on fire while building an awesome music platform.

anthony
This is why I see music streaming as a commodity that all these big incumbent tech players want to get into. For all the emphasis Spotify is putting into the social and collaborative features of their platform, it is still serving the music you want to listen to it when you want to. This is something that Apple/Google/Amazon/etc. can mostly replicate.
ameet
I don't think that's the correct way to look at it. It's easy to think of streaming music as a commodity when most of what you want to listen to is available on your platform of choice, but if Calvin Harris suddenly dropped Spotify and was exclusive to Apple Music, I'd definitely notice.
ameet
It's like Netflix video; they have "a lot" of what you want to watch but are missing quite a bit of content that you inevitably have to hunt around to find. For example Netflix doesn't have Game of Thrones or Westworld so I'm in the HBO app pretty often. So I wouldn't call streaming video a commodity, and similarly I wouldn't call streaming music a commodity.
ameet
I remember in early 2016 when Kanye released TLOP exclusively on Tidal and I couldn't make it through their janky payment processing system and had to resort to getting a copy from a friend. With respect to availability of certain must-have artists and labels, services can really differentiate themselves by locking up artists.
ameet
This is even before we get to the process of producing music, marketing it, and the very short life that most songs actually have.

anthony
But can locking up artists on specific platforms really make sense long term? The labels limit the number of potential listeners and prevent the music from reaching the largest audience base.
ameet
It's hard to say for sure. If I was a musician or a label I'd probably want my content on as many streaming platforms as possible for wide distribution and to amortize the up front production cost over as many people as possible. That being said, if a Spotify or Apple is going to give me a bigger cut of revenue and promotion for an exclusive license, that might be something I'd entertain.
ameet
I think "windowing" which is super common in the film business (two months in theaters, two months in premium streaming video on demand, then on DVD) is going to become increasingly prominent in the streaming music world as well. I also think that Spotify is going to make some artists exclusive to the paid tier, which is something they swore never to do.
ameet
But to take a step back for a second, if you're Spotify and you're paying out 85 cents of every dollar for content, what do you need to do? You need to increase revenue (either through increased pricing which they probably won't do or through enhanced advertising products) and you need to reduce your costs.
ameet
One interesting way they can potentially reduce costs is to follow the Netflix path by financing and producing their own music. They have a ton of data on what music people like and could potentially reverse-engineer that into songs, or at the very least provide that data to producers. Those songs might not end up being hits but they could end up being something like a "House of Cards" for Spotify.

anthony
Definitely a strategy but is that really a sustainable differentiator versus some very well funded competitors that can do the exact same thing? Hell, Apple has already implemented this strategy.

anthony
The New York Times
Chance the Rapper Says His Apple Music Deal Was Worth $500,000
In a rare industry disclosure, Chance pulled the curtain back on the music streaming wars.

anthony
Since its debut in the summer of 2015, Apple Music has partnered closely with artists, including Drake, Frank Ocean and Future, sponsoring tours, music videos and more as part of arrangements that often included exclusivity windows on new releases, which Apple hoped would boost its subscriber numbers as it competes with the streaming leader Spotify. (Tidal, the streaming service spearheaded by Jay Z, has also used the strategy.)

anthony
While Apple has focused on exclusive window periods for now, why not just finance and market the artists themselves? They already have Jimmy Iovine (founder of Interscope) running Apple Music - if anyone can do build a new record label in 2017, he would be my choice to lead it.
ameet
There really is no silver bullet here for Spotify. They can try a bunch of tactics with individually incremental effects and as a whole they might succeed in retaining users. I saw this pop up on Twitter today:
ameet
The Independent
Spotify introduces Time Capsule feature that works out your music taste as a teenager
Spotify has introduced a feature that curates a playlist of your favourite throwback hits. Time Capsule is available for anyone over 16 with a Spotify account in most countries. So if you think 2017 has been a bad year for music you can comfort yourself with some Lauryn Hill, Blink 182 or a bit of OutKast. The Independent office has been having a lot of fun delving into songs we'd almost forgotten.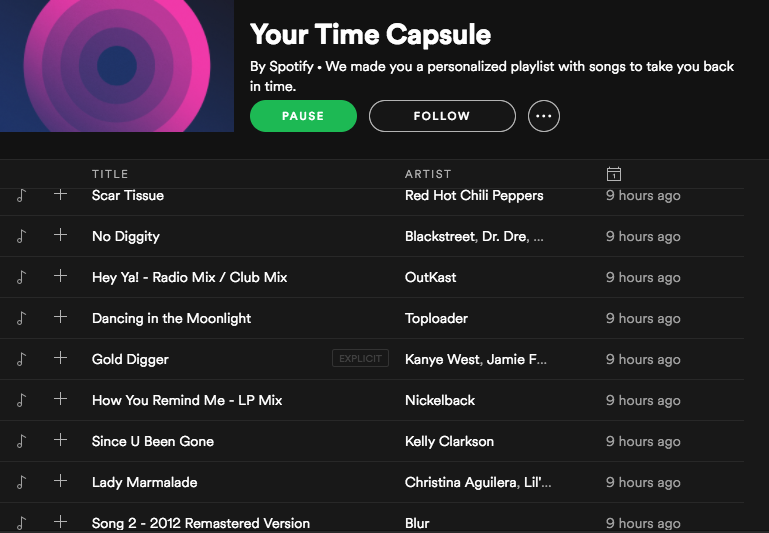 ameet
Here's the money quote:
ameet
Feedback on the playlist's accuracy has ranged from "creepily spot on" to "not bad", "a reminder that I was super lame" to "HOW DOES IT KNOW SO MUCH?".
ameet
This substantiates the point I was making before: Spotify can differentiate on personalization on the data that they have about your music tastes. I'm pretty sure that this Time Capsule feature is a way of reminding you just how much you have invested into Spotify, how individually tailored it is, and that if you move to another service you'll be "starting from scratch".
ameet
Whether a head start over competitors amounting to 60 million paid users can really drive sustainable differentiation remains to be seen.

anthony
Let's hope so. Going to do my part in supporting Spotify by checking own my personal Time Capsule playlist. See ya.