anti social 😾
ameet
Yo Anthony. Have you noticed that the LinkedIn newsfeed is unusually garbage lately? It's full of these humblebrag preachy posts like this one:
ameet
ameet
They feel like the 2016 version of the email forward, except we still have email.

anthony
Relatable. Why is this stuff increasingly showing up on my newsfeed?
ameet
I think LinkedIn is meant for "networking" so it's shows you stuff from outside your immediate professional circle because one of your random connections "Liked" it.

anthony
Just because people are "liking" something doesn't mean I want to see it. There is too much nonsense. Feels like Facebook which is also getting pretty noisey these days.
ameet
Yes, but the ways in which you use Facebook and LinkedIn are different. Facebook is meant for engaging with stuff your actual friends are sharing and posting.
ameet
So I wouldn't say there's too much "noise", it's just the nature of the network.

anthony
So here is an example. I am a center left milliennial that tends to have many liberal friends. Sometimes stuf pops up on my newsfeed that I am not interested in or it is obviously fake news.

anthony
The New York Times
Facebook and the Digital Virus Called Fake News
Hoaxes are not just bouncing around among conspiracy theorists; candidates and elected officials are sharing them, too.
ameet
But that stuff is not surfaced with out some validation from one of your friends.

anthony
The definition of "friend" has become pretty loose in the digital age...
ameet
I agree with that, but that means that the real issue is not "noise", it's that your social/personal circle, even though their views socially/politically are probably very aligned with yours, is not great for curating content for you.

anthony
exactly. i think what we are learning now is that engagement does not always equal content i want to see.

anthony
Remember when facebook changed their algo to de-emphasize "low quality" clickbait content like Upworthy?

anthony
Business Insider
Upworthy Traffic Gets Crushed
In November, viral-content-for-a-cause site...
ameet
I remember. I think what we could see next is an evolution in Facebook's thinking to further de-emphasize non-original posts again.
ameet
Facebook is by a bunch of nerdy engineers who can be very absolutist in their thinking, remember there was that feature when if you were watching a video or reading an article it would actually broadcast that fact to your feed?
ameet
ReadWrite
"Read" in Facebook - It's Not a Button, So Be Careful What You Click! - ReadWrite
While the focus of today's Facebook announcements was the new Timeline profile, the Read, Watch, Listen media sharing apps have generated a lot of interest too. These so-called "social apps" haven't been widely launched yet, but you can get a sense of what they will do by adding a couple of brand new newspaper social apps to your Facebook…
ameet
Are you kidding me, I don't want everyone to know what I'm reading. But they assumed because it could be shared then it should.

anthony
What is interesting how the people creating these products are very detached from their users.

anthony
Look at Twitter - they've gone through the same problems. It's been well documented that their predominantly male leadership for years didn't think that abuse and bullying on Twitter was a real issue because they didn't get their users.

anthony
AllThingsD
Carrot Flop: Twitter CEO Costolo Finds Lack of Woman on Board Is No Joking Matter
Two men fight over women, of course.
ameet
Totally, the people creating these products/platforms are so detached from their users that only after they make some sort of mistake or do they observe some behavior do they catch up.
ameet
But they are kind of always playing catch up because user behavior is always evolving as well.
ameet
So while there was this time in which we assumed that "more is better" and we were happy to get the full Facebook/Twitter firehose, people are going to move to a more curated experience with less opportunities for fake news and stuff.

anthony
This is already happening with another social network: Snapchat.

anthony
BuzzFeed
Why Snapchat And Apple Don't Have A Fake News Problem
Being a control freak pays off. "It's impossible for somebody to go rogue in Discover."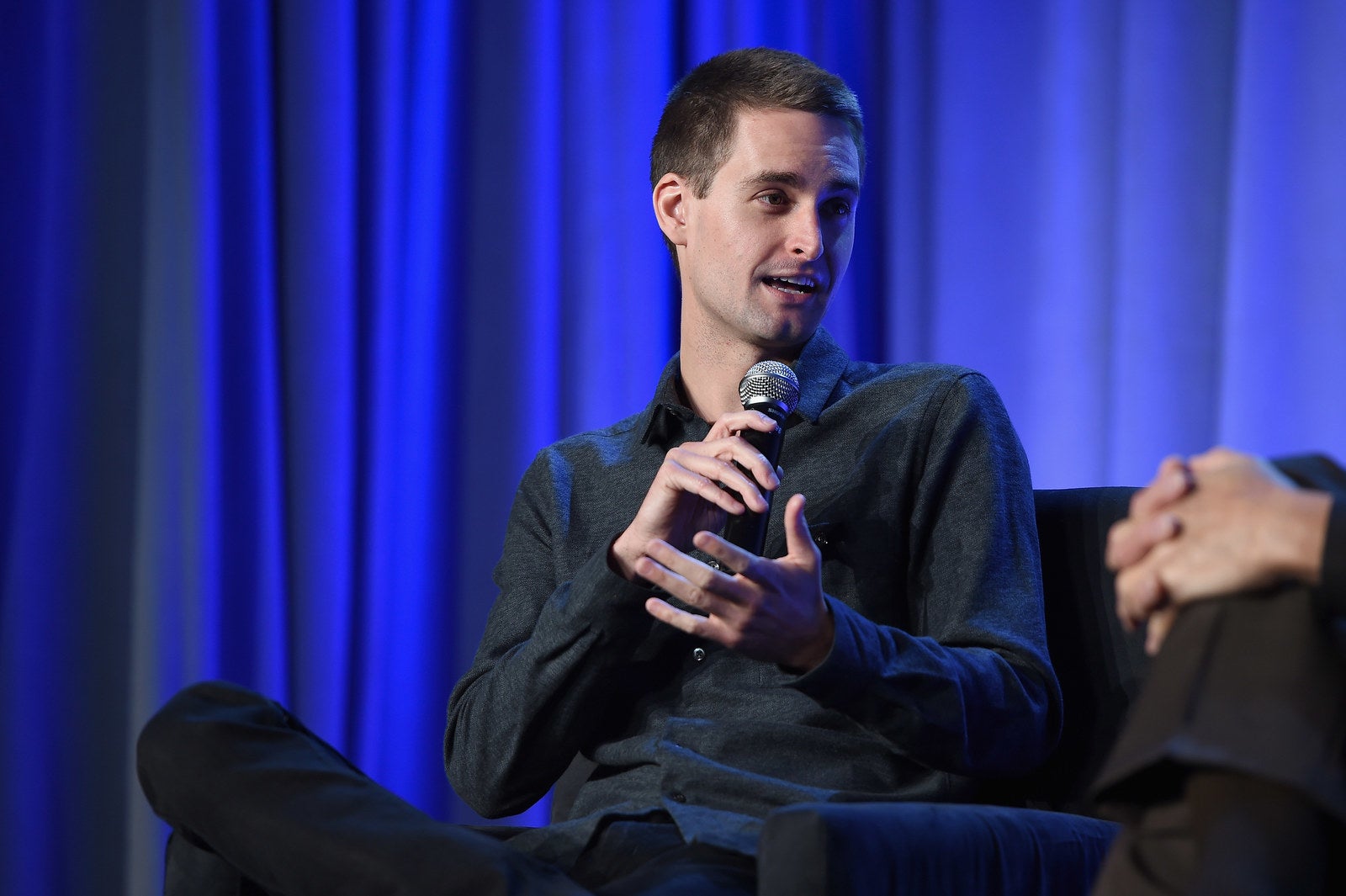 anthony
On Snapchat, the name of the game is projecting authenticity, not racking up faves, and the rules of the game are enforced in the way the app is designed. Snapchat profiles do not display a follower count or even let users know how many followers they have. Plus, it's hard to go viral when you can't pass around a link to an individual's post.

anthony
Irrelevant content on Snapchat is more difficult to spread because of UI/UX decisions. Snapchat also benefits from a highly curated experienced backed with human editors.
ameet
That's true, but Snapchat Discover happens to appeal to us. But what about people from different backgrounds who are not like us? Do they stay on Facebook?

anthony
For now they do. You are already hearing from promiment Conservatives that fact checking and filtering on Facebook will favor liberals.

anthony
CNNMoney
Facebook's 'fake news' labels under fire from the right
As Facebook introduces "fake news" warning labels, the social network faces a fundamental problem: Some of its users don't trust the fact-checkers.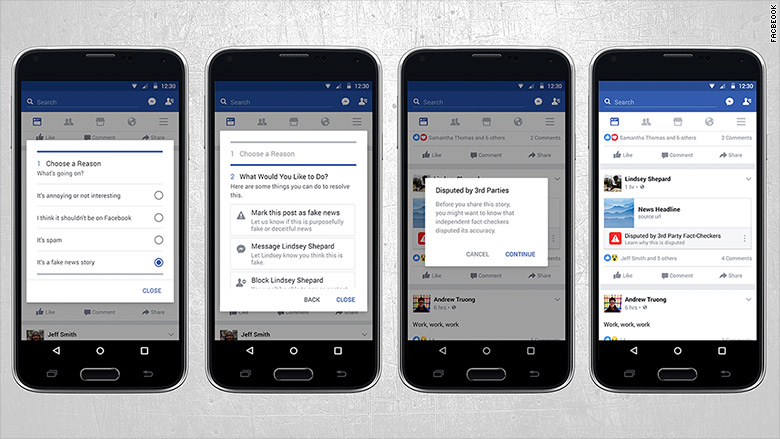 anthony
If you don't trust the service, people will gradually move away from the platform. They still have to get their news somewhere? Where will it be?
ameet
The easy answer is that people will double down on their views with publications and outlets that conform to their views.
ameet
Even Zuck agrees with that.
ameet
facebook.com
Mark Zuckerberg - On News Feed's 10th birthday, I want to... | Facebook
I spend a lot of time thinking about how to make Facebook a place for all ideas. Some of what we're up against is human nature -- biases that existed long before the internet. But by giving people access to more information and helping promote diversity and a plurality of opinions, we can build stronger communities.
ameet
Research shows that we all have psychological bias that makes us tune out information that doesn't fit with our model of the world. It's human nature to gravitate towards people who think like we do.

anthony
I do agree with parts of it, but like he said human bias will drift us towards things we believe in. But it is in Facebook's best interest to keep the user engaged resulting in showing more of the content we like.
ameet
The reality is that sharing-driven platforms like Facebook and Twitter emphasize existing biases and behaviors. This increased splitting might have some bad outcomes such as increased polarization and extreme opinions, but if that's the reality, then it's neither good nor bad. It just is.

anthony
I don't think its all doom and gloom.

anthony
Advertising Age
New York Times, WSJ Subscriptions Surge After Election
At the Times, new print and digital subscriptions have risen at four times their normal rate since election day.
ameet
Interesting. Why do you think that is?

anthony
Well as we said before the noise has gotten so loud that people are willing to look for a more curated experience. Plus people are also showing that they are willing to pay for news, which goes against the conventional wisdom that no one would ever pay for news.

anthony
Ultimately, and what's positive here is that people are taking ownership to become more informed citizens in a chaotic world.