cooking up an IPO 🍳

anthony
Happy New Year Ameet 🎉!

anthony
This going to be my year.

anthony
"New Year, New Me"
ameet
Happy New Year Anthony 🎆🎆🎆

anthony
One of my resolutions is not order Seamless 3-8x a week and cook more.
ameet
I that's a pretty common one. Look who's targeting all the "New Year New Me" people on Instagram:
ameet

anthony
I know what one of Blue Apron's 2017 resolutions is gonna be:

anthony
Bloomberg.com
Blue Apron Put IPO Plans on Hold to Focus on Financials
Meal-kit delivery company Blue Apron Inc. has put preparations for an initial public offering on hold, people familiar with the matter said, delaying selecting bankers while it focuses on improving its financial metrics.

anthony
Even with more than $800 million in annual revenue this year, the company has struggled to improve profit margins as much as management wanted in the face of more competition, the people said. A stronger performance is needed to support the $3 billion valuation that the company was targeting in an IPO.

anthony
$800MM in top line revenue and they still can't go public. It's a cold world 🌚.
ameet
The fact that none of these meal delivery startups (Blue Apron, Hellofresh, Plated) have moved beyond startup-phase probably means that they aren't mature enough or don't have the robust-ness to go public.

anthony
Part of it stems from the ruthlessness competition for new customers:

anthony
Like many of its subscription-based rivals, Blue Apron offers generous sign-up discounts to new customers. It's harder to get them to stick around when the markdowns end. While the New York-based company was one of the first to create such a service, new entrants to the market have given subscribers plenty of other options.
ameet
Totally, my old roommate sampled all the major food boxes and kept bouncing around with no loyalty to one in particular. That being said she was a great chef so I don't think any of them were really for her tbh.

anthony
This news comes on the heels of Buzzfeed's investigative piece on Blue Apron last year:

anthony
BuzzFeed
In Blue Apron's Chaotic Warehouses, Making Dinner Easy Is Hard Work
Blue Apron wants to revolutionize the food system by selling would-be home cooks all the ingredients they need to make a wholesome meal without setting foot in the grocery store.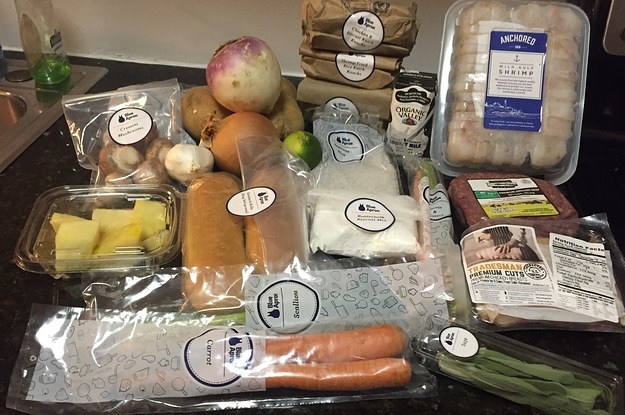 anthony
All told, interviews with 14 former employees describe a chaotic, stressful environment where employees work long days for wages starting at $12 an hour bagging cilantro or assembling boxes in a warehouse kept at a temperature below 40 degrees.

anthony
This is the most telling quote:

anthony
Before they opened a food processing facility there, Blue Apron's three co-founders were new to Richmond...Between them, they have experience in high-end cooking, software engineering, and business, but none with warehouse security or large-scale logistics.

anthony
This is the reality for a lot of these lifestyle startups we all use. Unlike a new social network or smartphone game, there are real logistical and infrastructure challenges you have to solve when scaling up. "Move fast and break things" is a lot harder when you're dealing with people and the real world...
ameet
I agree with that. It's sort of interesting that building out the operational aspects of a business is related to its maturity and ability to go public.

anthony
It has to be right? They're sending you groceries. Yes, the consumer is interacting via the web but someone has to package all those ingredients and get it out the door in time for dinner.
ameet
So if they don't go public, what happens? Do they delay until they have the financials to support an IPO or do they try to get acquired by an existing player?
ameet
(really calling on your former finance bro expertise here @anthony )

anthony
They can do a few things: tap the private market for additional funding (hopefully at a higher valuation vs. the last round), grow steadily using profits or sell to a well established leader in the space.

anthony
This being startup land, sustainable and steady growth isn't what the VC's are looking for.

anthony
Most likely they'll try to raise more $$$ or sell to the highest bidder.

anthony
As we've saw in 2016, there is a lot of money to be made selling to the incumbents - see Wal-Mart buying Jet for $3BN and Gillette buying Dollar Shave Club for $1BN.
ameet
I guess the theme with those acquisitions is that the acquirer is trying to find a new business and user base that is orthogonal to their current M.O. So who do you think would buy a Blue Apron? My first thought was someone like Amazon but based on the above that doesn't sound likely.
ameet
It would probably be a more traditional and old-school incumbent.

anthony
Kroger and Whole Foods come to mind.
ameet
Presumably it would have to be someone who can leverage some part of their existing stack into Blue Apron. Where does Blue Apron source their ingredients?

anthony
Based on their website, they work directly with farmers, fisheries and ranchers.
ameet
If it were someone like a Kroger's or Whole Foods, I'd guess they have existing relationships with suppliers plus a logistics network into which they could plug Blue Apron's operations.

anthony
Sure but what is the play for these guys? Blue Apron could cannibalize their existing store sales.
ameet
For one of these incumbent grocery guys hypothetically buying Blue Apron, they would be buying the e-commerce platform, the team and tech that puts together the boxes, and the customer base.
ameet
This would potentially allow them to up-sell Blue Apron's customers into coming into the physical store for additional items. That's actually a pretty logical extension; if a customer gets a box with some ingredients they could suggest that the customer go to X store to get Y and Z to make some other kind of dish.

anthony
Yeah I can see the synergies here.
ameet
The urban➡suburban play is pretty interesting to think about. I'm willing to bet that Blue Apron's customers are highly urban. Only a few grocery chains have the means to play in big cities, and this could be a way to reach those hip urban millennials.
ameet
The issue with that theory is that the e-commerce business they've acquired is totally independent of the existing brick-and-mortar business.

anthony
Okay so maybe the play here is to bring younger people into the fold via Blue Apron and when they move to the suburbs they will transition to shopping at their brick and mortar locations.
ameet
Potentially, but if the subscription box service ingrains the service and delivery habits in those people then they're not gonna be likely to drive out to a store if and when they move to the suburbs. For example, having been on Amazon Prime for the past few years I've been conditioned to never go to Best Buy to look at a TV again.
ameet
That being said, here's another question. Why would Blue Apron want to get acquired?

anthony
A few things: being a public company with constant shareholder pressure is brutal, scaling up operations is tough (as noted above in the Buzzfeed article) and the acquisition valuation could be higher than what they think they can get in the public markets.
ameet
Blue Apron would need an acquirer who could help them grow faster than they could on their own and/or improve their processes somehow.
ameet
This is interesting to consider in relation to this news:
ameet
Bloomberg.com
Whole Foods Invests in Instacart at 2014 Valuation
The deal represents a deepening of the relationship between the two companies.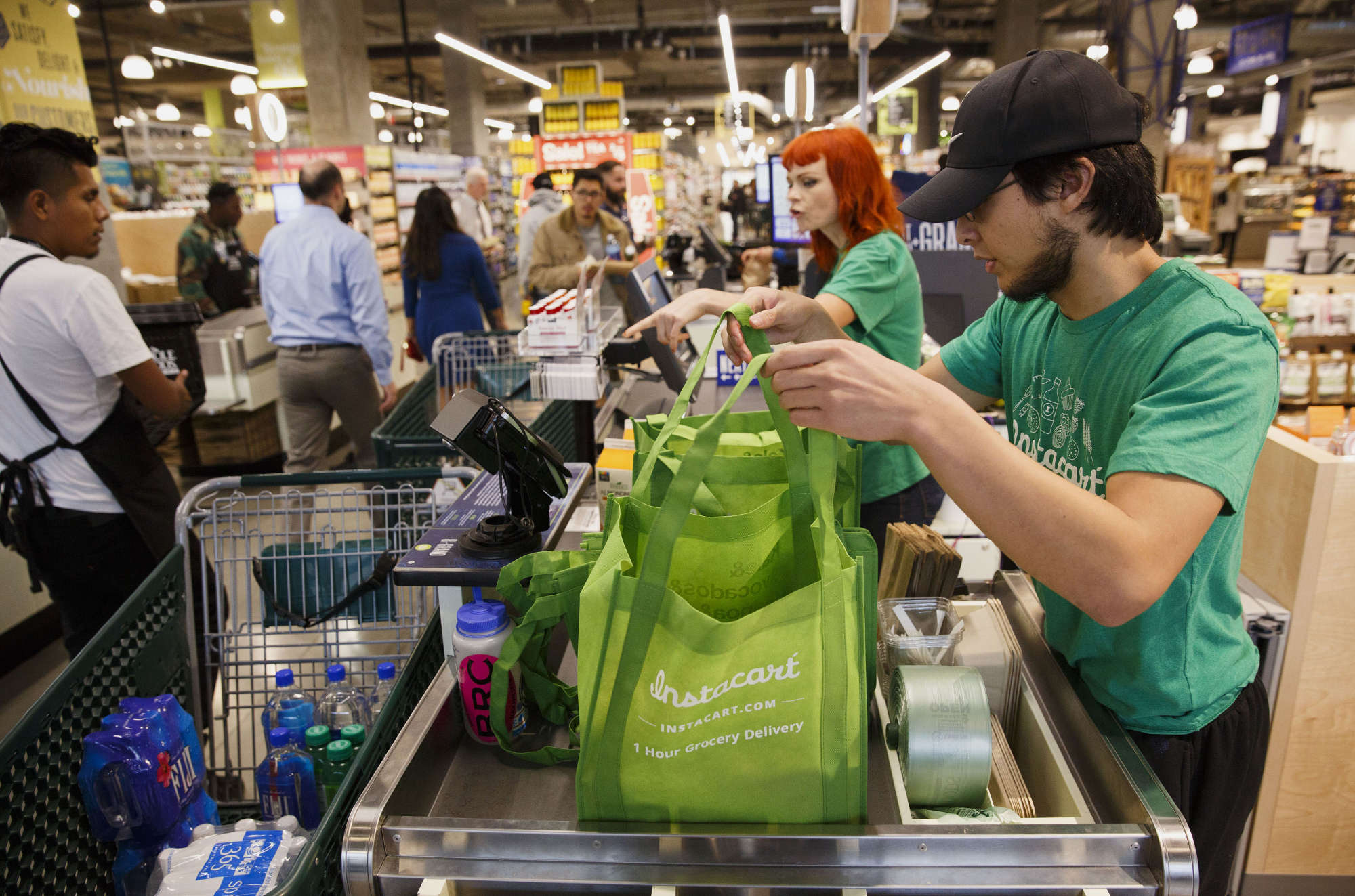 ameet
Instacart is obviously not a subscription box but from a synergy-seeking-grocery-company-perspective, it's a comp.
ameet
Whole Foods first teamed up with Instacart on a delivery program in 2014 and has since expanded to more than 25 markets across the U.S. It allows customers to order food and other products directly from the Whole Foods website and have them delivered.


anthony
I see Instacart more as a feature add-on business while Blue Apron is a completely vertically integrated business.
ameet
Okay. Before Instacart made a deal with Whole Foods, did they own the whole stack or were they still sourcing products from retail stores? Because if they were/are just a layer on top of a traditional grocery shopping experience, then yes they are probably not a comp.
ameet
That being said, and one thing that makes these different is that the Blue Apron boxes are highly specialized. The ingredients are individually packaged for only one- or two-meal portions which is something that very few companies do. This is why I think Blue Apron would stay independent, because there aren't too many traditional grocery companies who could realize any kind of synergies or top-line growth.

anthony
But at scale, you can use purchasing power to work with Tyson chicken, Dole lettuce, McCormick spices to individualize those boxes. I don't think it is as much of hindrance as you think it be because we aren't talking about packaged goods. Almost all of Blue Apron's inventory is raw, uncooked food.
ameet
Logistics aside, can a traditional grocery buyer help Blue Apron grow more quickly without cannibalizing their existing stores?
ameet
All this is more interesting to consider in relation to this news:
ameet
WSJ
Target Goes After Millennials With Small, Focused Stores
Big-box retailer Target is opening smaller stores in urban areas and college towns as it battles declining traffic and sales at its nearly 1,800-strong fleet of largely suburban stores.
ameet
Seems like everyone is trying to go more urban these days.

anthony
Makes sense. Look at who is moving back into cities:

anthony
Gizmodo
The People Moving Back Into Big American Cities Are Mostly Rich White People
We keep hearing that this is the age of rapid urbanization: By 2050, 70 percent of the world's population will live in cities. But in the United States, the people moving into those cities are largely rich, white, and childless. What's more, not as many of them are moving as they were a few years ago.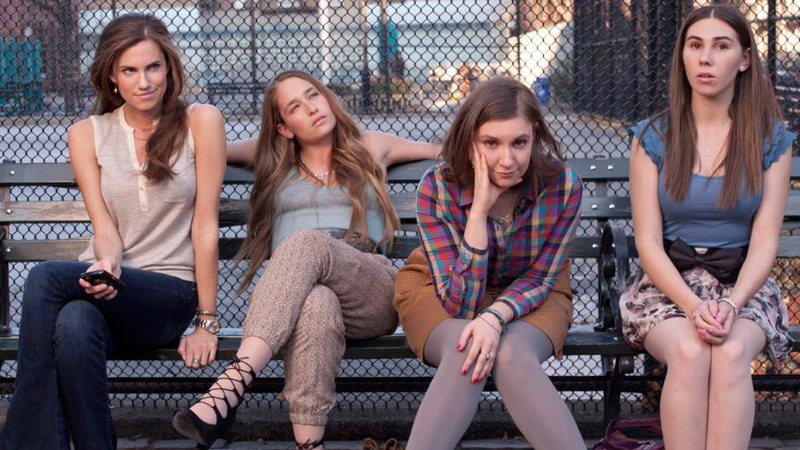 anthony
The population numbers might not show the absolute growth in urbanization we all thought, but the money is definitely moving into cities. These companies have to adapt to make sure they stay in front of the spenders.
ameet
I applaud this move. I've been getting pretty used to getting Sour Patch Kids by Postmates in in an hour or less and am glad to have more options.
ameet
I look forward to buying groceries while never leaving my couch.

anthony
And with that, I've think we've hit peak urban millennial 💀.