cooking up an IPO 🍳 pt deux

ameet
Fortune
Meal-Kit Startup Blue Apron Is Going Public
It's growing fast but it's losing money.
ameet
Sorry, I know you don't like to read someone else's commentary. Here's the primary source:

anthony

anthony
That's a lot of money for boxes of food.
ameet
What's a lot of money, the P or the L? Starting from the top, revenue increasing more than 10X over two years is pretty remarkable, especially when you consider that they were one of the first in this category and had to train customers on an entirely new kind of behavior.
ameet
In addition, the first quarter of 2017 was around $250M so we are already at a $1BN revenue run rate for this year. woooo

anthony

anthony
They've done a good job getting those COGS down but the % uptick in marketing is a cause for concern.
ameet
Yes, getting COGS from an abysmal 93% of revenue in 2014 down to a less abysmal 67% of revenue in 2016 is a positive step, though it sort of stabilized during the first quarter of this year.
ameet
As for marketing, that jumped pretty substantially during the first quarter of this year but there's some seasonality in that number.
ameet
Here's what they say:
ameet
This increase as a percentage of net revenue primarily included an increase of 1080 basis points for advertising and promotional activity driven by our seasonal marketing strategies in the three months ended March 31, 2017 to increase marketing investment during a period of expected high customer engagement, partially offset by a decrease of 90 basis points in our customer referral program primarily driven by a decrease in the mix of customer referral orders versus total Orders.

anthony

anthony
While the number of orders and customers increased, the average order value has held relatively steady. This has the makings of a company unable to increase consumer consumption.
ameet
Part of this is their own doing. Take a look at their product offerings:
ameet
ameet
It's a very structured product that's simple by design, which makes it accessible and easy to fit into your life. On the other hand, the fact that the orders per customer are flat over several quarters (around 4) means that people aren't feeling the love as much as they should.
ameet
Speaking of which, after I was done messing around on the Blue Apron web site I received this email:
ameet
ameet
I know that shopping cart abandonment is a fairly standard tactic these days but knocking 50% off the first order is aggressive.

anthony
Let's look at it from Blue Apron's perspective. They've been around since 2012, they've probably tapped all the early adopters on the curve. Now they are fighting to hold on to early adopters while also bringing on newer, potentially more skeptical customers. Drastically discounted intro pricing is probably the easiest way to get them in the door.
ameet
Speaking of getting people in the door, these have been popping up with increasing frequency:
ameet
ameet
Let's get into their marketing spend because there's actually quite a bit to unpack.
ameet
First, this picture:
ameet
This validates your point that they started to pour millions of dollars into "offline media" i.e. subways and billboards to get people to sign up. Here's what they said:
ameet
Beginning in 2016, however, a larger portion of our spending has been on offline channels. We believe increased emphasis on offline channels will drive stronger brand awareness, customer engagement and, ultimately, customer retention.
ameet
It's notable that Blue Apron cites "retention" as a reason to invest in offline media. That sort of customer re-engagement via TV is actually super traditional and very common among old-school CPG companies.

anthony
Speaking of "retention", did Blue Apron talk about this in their S-1?
ameet
Well they gave us this:
ameet
During 2016, 92% of our net revenue was generated from Repeat Orders, ranging from 89% to 93% across each of the four quarters of 2016. For the three months ended March 31, 2017, 92% of our net revenue was generated from Repeat Orders.

anthony
That sounds good but what does that actually mean?
ameet
I'm trying to wrap my head around that figure. It sounds great to say that "92% of our revenue is from repeat orders" but that means that 92% of the revenue is generated by people who have ordered at least twice. It would be a terrible business if the majority of your customers tried it only once.
ameet
They also helpfully provided this funny graph:
ameet
I have Many Feelings about this graph.

anthony
A great chart to include in your IPO materials. On the surface, a $94 marketing cost pays off a few times over in less than 6 months is great. Up and to the right...
ameet
So here's what they say about that CPC figure:
ameet
Cost per Customer, or CPC, is calculated as cumulative marketing expenses for the years 2014, 2015, 2016 and the first quarter of 2017, divided by the total number of Customers acquired during such period.
ameet
So they took the total marketing spend over three years and divided it by the total number of customers they acquired. While that's technically "correct" I think it isn't the best way to display your marketing efficiency. For example, we don't know whether the CAC/LTV ratio is improving over time. It would better to show this data by sign-up cohort, e.g. those who signed up in 1H2014, 2H2014, 1H2015, 2H2015, 1H2016, 2H2016 and the CAC/LTV of customers in each of those.
ameet
What this data does tell us, however, is that you have net revenue of $410 over the first 6 months, a 50% drop-off after that, and rate of re-ordering continues to decrease dramatically over time. Ideally customers would stick around at more consistent rate.

anthony
Yeah at first glance this chart looks great but if you dig in deeper, you realize that the rate of growth in cumulative spend at each period is slowing down. This is most pronounced between the 6 and 12 month periods. This means that the people who continue to stay on with Blue Apron steadily order less over time.
ameet
The issue here is really the "story". I know that these companies try to weave a narrative from their data, and the story that Blue Apron is trying to tell here is one of customers who are cheap to buy and then go on to spend a ton of money with them, but it's not super clear the extent to which that's actually true.

anthony
To the team's credit, they are not just sitting idly by. Look at some of the new add-ons they are pitching in addition to the subscription boxes:

anthony

anthony
Millennials do love their wines.

anthony
Selling kitchen supplies alongside those subscription boxes is a good potential revenue steam:

anthony
ameet
Yeah increasing the average order value by 20% on some high-margin alcohol is nothing to sneeze at.
ameet
I know I've been a downer for most of this, but it is really incredible what they have done. Inventing a new category in meal-prep delivery and getting millions of people to buy these pre-packaged ingredients is extremely tough and they are definitely the leader in this space:
ameet
From inception through March 31, 2017, we have delivered over 159 million meals to households across the United States, which represents approximately 25 million paid orders.
ameet
What's more, their branding and packaging is totally airtight. Not too many startups have such a consistent identity and familiar feel, while also pouring tens of millions of dollars into subway ads.
ameet
However, as you said, diversifying revenue streams is key. It's possible that they could get into other meals and other products, but the most important thing here is showing that they can acquire and retain customers cheaply and efficiently.
ameet
What do you think about Amazon getting into this space?

anthony
Amazon is always a looming threat. They've launched Amazon Fresh in a few major US markets as a test run for their logistics network but it looks like they are beginning to become serious about this space.

anthony

Bloomberg.com
Inside Amazon's Battle to Break Into the $800 Billion Grocery Market
After almost a decade of food retail experiments with little success online, the e-commerce giant is embracing the physical stores it once shunned.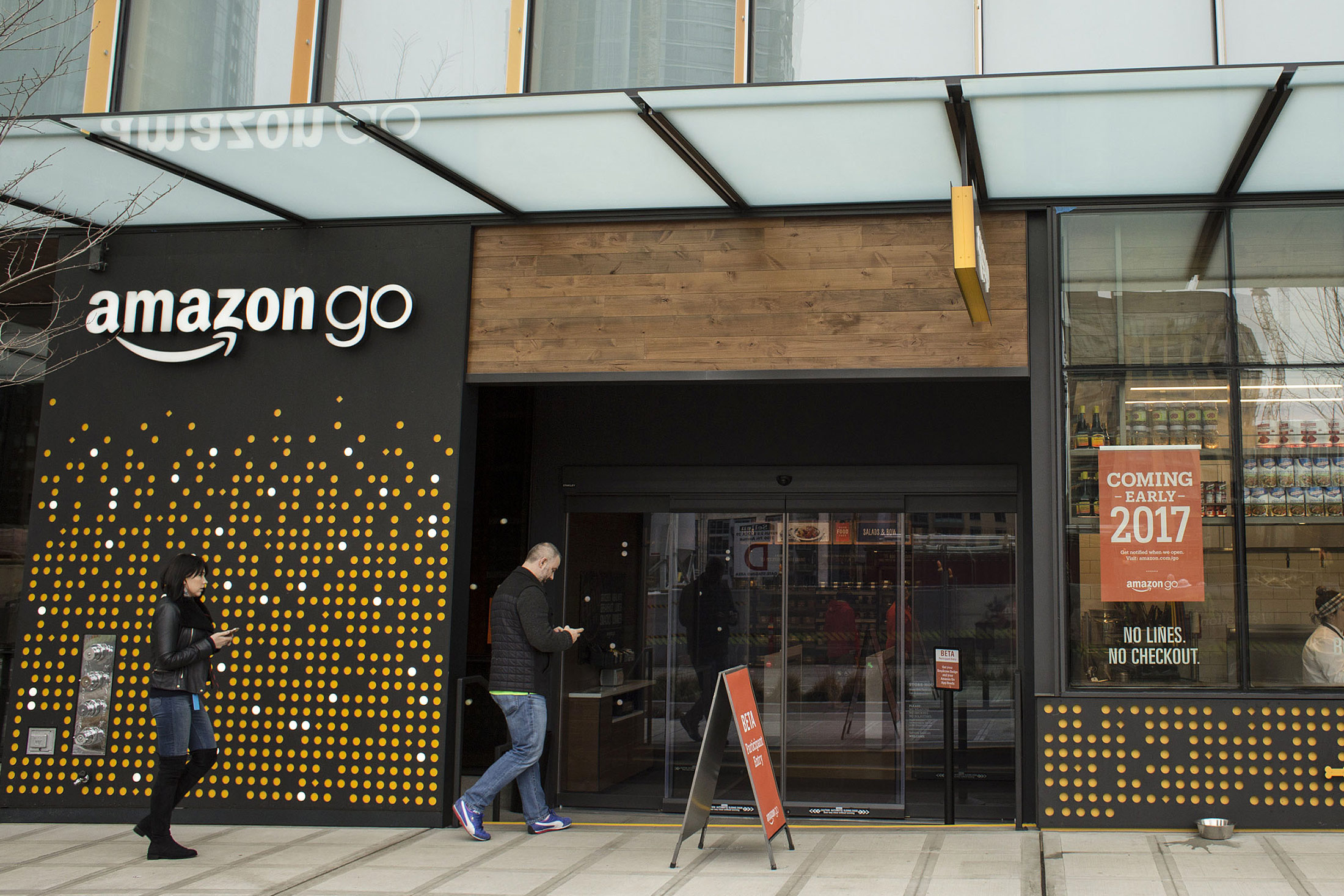 anthony
Amazon's goal is to become a Top 5 grocery retailer by 2025, according to a person familiar with the matter. That would require more than $30 billion in annual food and beverage spending through its sites, up from $8.7 billion - including Amazon Fresh and all other food and drink sales - in 2016, according to Cowen & Co.

anthony
If Amazon comes in, how can Blue Apron compete?
ameet
When Amazon comes after your business you have Big Problems. Amazon can out-operate and out-spend Blue Apron on every part of their business like logistics and delivery. The only way to compete is to build a really strong brand that people love, have an capable culinary team with an appealing rotating product mix, and focus on customer retention.
ameet
Unfortunately that was the most difficult part to figure out from the S-1. So I guess the answer is: we'll see.

anthony
Got it. Well I am going to enjoy making my Blue Apron Tomato-Saffron Risotto for dinner.