retailmenot 🛒

anthony
Just came back from Whole Foods to pick up my weekly La Croix purchase.

anthony
What I meant to write was Whole Foods powered by Amazon*
ameet
What a wild Friday in retail:
ameet
Recode
Amazon is buying Whole Foods for almost $14 billion
Amazon's push into groceries and retail just got serious.
ameet
So much retail wisdom. Check out this guy:
ameet
Carl Quintanilla
@carlquintanilla
Amazon/Whole Food overlay
(via Eric Chemi) @CNBC $AMZN https://pbs.twimg.com/media/DCdOk58V0AAobS2.jpg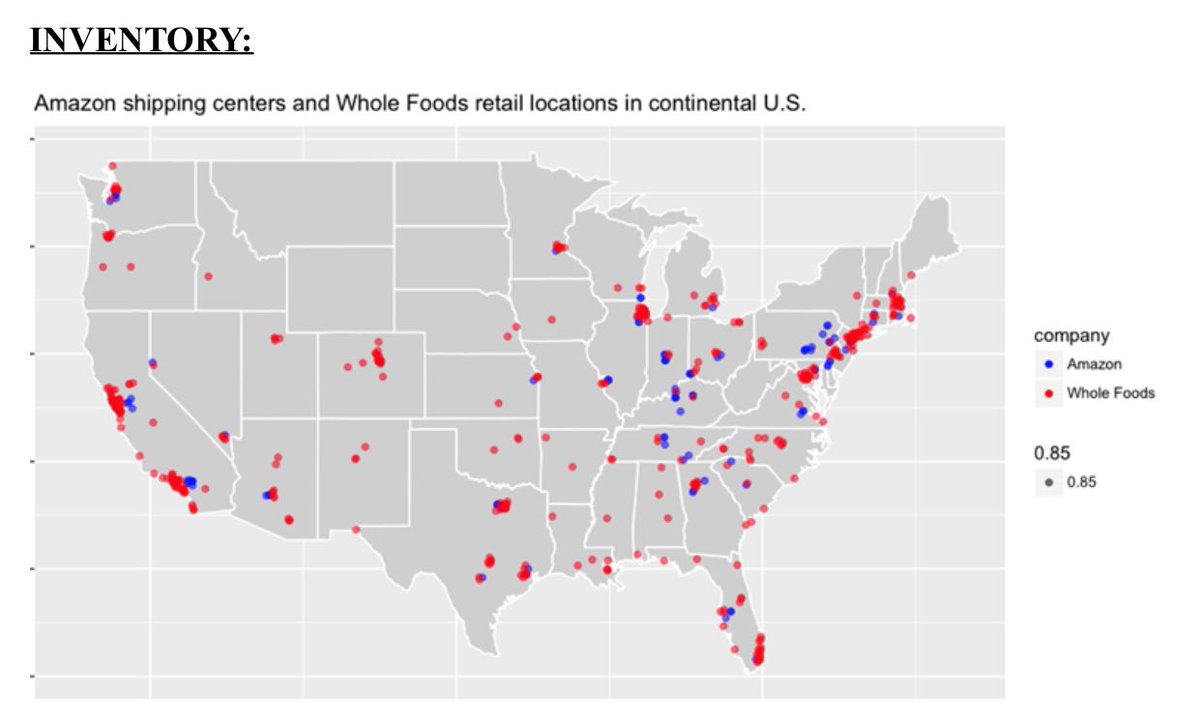 Twitter

anthony
Plus the fact that they got Whole Foods "for free" makes it even better [end sarcasm].
ameet
In other news, our old friends in Bentonville are making some aggressive moves:
ameet
Recode
Walmart has confirmed it is buying Bonobos for $310 million
Walmart's M&A spree continues.

anthony
Merger Fridays, amirite?

anthony
No but really, these are somewhat surprising moves for both companies expanding their market reach: Amazon going all-in on brick and mortar groceries while Wal-Mart buys a VC backed menswear brand. What a time to be alive.
ameet
Honestly we can sit here all day and analyze the Whole Foods deal, but the point I find notable is how it shows Amazon trying to meet customers "halfway" having struggled in the grocery space for a while. Meanwhile, Wal-Mart recognizes that they don't have all the answers and is trying to buy innovation and tech.
ameet
Here's a fun thought experiment; what are the other hot new-age tech-enabled e-commerce startups from the Bonobos era?
ameet
I'd put Indochino and Warby Parker on the top of the list. Incidentally, Bonobos raised $127MM in funding, Indochino is at $47MM in funding, and Warby is at a whopping $215MM in funding. Turns out this space is absurdly expensive.

anthony
Dollar Shave Club and Everlane also come to mind.
ameet
Yep. DSC raised $163MM in funding (before getting acquired for a cool billion dollars). Other than Bonobos, that's the only exit from this particular batch.

anthony
These companies have been around for a while but not really in the news (good or bad). What does that say for these new wave e-commerce companies?
ameet
I'd hazard a guess that they are having difficulties reaching that VC-glorified "escape velocity". On the other hand, they are still around and doing business so they must be on to something. This particular cohort has done a good job innovating around product and customer experience but (most of them) haven't quite broken out yet.
ameet
I'll tell you what else; I remember when these guys all blew up in the early 2010s with their cool brands and neat tech and millennial hipster customers, and it led to a wave of funding in questionable e-commerce concepts.
ameet
VC judgment can be very suspect sometimes.
ameet
Top of my list is
Fab.com
. That was a pretty fun year, reading about these guys disintegrating into craziness:
ameet
VentureBeat
A brief history of Fab, from mega-hype to crash and burn
After an amazing rise to fame, flash-sale site
Fab.com
has been sold to an international design and manufacturing company.

anthony
I remember that dumpster fire of a company. I wasn't really impressed with anything those guys were selling but they did a good job generating buzz and virality.
ameet
Exactly, and in the same cohort goes One Kings Lane (flash sales for furniture) and every subscription box variant starting with Birchbox.

anthony
Don't forget Barkbox!
ameet
In my mind, what differentiates this particular cohort from the first set is they tried to innovate around pricing and customer economics with stuff like flash sales and subscription pricing rather than providing an appealing product. As a result flash sales are all but extinct.

anthony
Much like a flash sale, Gilt Group sold at a discount. $271MM in funding but sold for $250MM...
recode.net
Recode
Hudson's Bay Confirms $250 Million Acquisition of Gilt Groupe
Gilt had raised about $280 million in venture capital and was once valued at more than $1 billion.
ameet
Alright then, so we've established that a bunch of novel e-commerce guys popped up initially selling their own branded differentiated products (some of which are still around) and then a wave of startups engaging in sales engineering also popped up and crashed shortly thereafter.

anthony
So where does that put us now?

anthony
There are still new e-commerce companies popping up on my Facebook and Instagram feeds with highly produced ads.
ameet
Well I'd like to start with these guys:
ameet
The New York Times
As Department Stores Close, Stitch Fix Expands Online
The start-up had $730 million in sales last year and raised just $42 million, a relatively modest sum for a high-flying Silicon Valley start-up.
ameet
"There's been a lot of innovation around being the cheapest or fastest," she said in an interview at one of the company's warehouses south of San Francisco. In her view, what was important was helping customers find clothing they liked without taking lengthy shopping trips and returning dozens of items.
ameet
It's important to look at what's changed over the past 5 years or so. We've seen an advent in data science and analytics that allows for a level of personalization that was never possible before. At the same time, social media has allowed for efficiency in targeted advertising that allows a brand to focus on a specific subset of customers most likely to engage and convert.

anthony
Let's step back and look at what these new companies are selling. These products aren't technically better than existing products. Look at Casper Mattresses, Away Luggage and Allbirds Sneakers. Nothing revolutionary about them, but they've taken advantages of supply chain efficiencies while also hyper targeting their advertising to reach potential customers. In many ways, these companies feel like the natural evolution of Bonobos & Dollar Shave Club more so than Birchbox and
Fab.com
.
ameet
Exactly, if you think about the customer journey for someone engaging with Allbirds Sneakers; they might see a sponsored post on Instagram by some #influencer, click through to the brand page, and ultimately buy the product right there on their phone. At no point does the customer watch a TV ad, or a banner ad, or even do a Google search.

anthony
That's all well and good but if these companies get big enough, they are going to attract the attention of Amazon right?

anthony
Amazon is going to let small companies eat but if they sense a market, Jeff Bezos has no problems going all in.

anthony
Last I checked, Amazon hasn't taken a L from a competitor in a while...
ameet
So what are the dimensions upon which a brand competes in e-commerce? As a startup you're probably not going to beat Amazon on logistics, price, or selection. The areas where you can potentially survive are product differentiation, own-brand vs. third-party, customer journey, and user experience.
ameet
There's room for someone like Outdoor Voices to carve out a niche in fashionable "athleisure" by having an authentic voice and brand that speaks to a very specific audience.

anthony
Those areas that you mentioned, how many of those stand up to the convenience of Amazon?
ameet
Pretty well I think. Look, Amazon is great at many things but being trendy and designer-friendly has historically not been one of them. Remember the ill-fated MyHabit?

anthony
I don't. You mentioned Outdoor Voices carving out a niche. By focusing on a specific segment, you inherently limit your growth. If you plan on taking VC money, you are aiming to grow 10x not, 1-2x.
ameet
That's true but if you look at brands like Lululemon and Under Armour, it's potentially possible to break through and build another similarly-sized company.
ameet
and if it all goes to crap you can still cash out at Wal-Mart for several hundred million dollars.


anthony
Sounds like they are interested in letting these brands continue to operate under the Wal-Mart umbrella but utilize operational efficiencies of the much bigger Wal-Mart supply chain. This also mitigates any loss in brand equity by not being directly associated with the Wal-Mart brand.
ameet
Totally, and at the other end of the spectrum, Amazon is trying to do it all on their own:
ameet
The Verge
Amazon dominates every market it touches - now it's coming for fashion
At the beginning of the year, Amazon quietly launched seven private label apparel brands, with most SKUs in men's accessories, women's dresses, and handbags. In April, it added its own lingerie line with cut-rate prices.
ameet
This sentence also stood out to me:
ameet
Customers have certainly shown they're willing to buy clothes from Amazon: in 2016, Amazon registered the most apparel sales of any online retailer in the US for those 18-34...Amazon held 6.6 percent of the apparel market"
ameet
I remember when Amazon started selling expensive electronics like TVs. The common wisdom was that no one would buy these things online because people "want to see/feel them in stores". The same logic was applied when Amazon got into clothes and look where we are now.
ameet
Amazon isn't even the cheapest option anymore so it isn't as though they are competing solely on price. Between the Prime subscription (which at this point is basically a cover charge to an exclusive club that allows you to spend more money) and free returns, buying stuff on Amazon is getting increasingly frictionless.

anthony
Amazon has been making strategic bets that people are willing to buy new products from Amazon just because their customers are so used to buying all of their other stuff from the site. Sure, why not? I'll buy a pair of Amazon khaki shorts alongside my toilet paper order.

anthony
In addition, their innovations with the Echo has continued to reduce the friction in purchasing. See this:

anthony
The Verge
Amazon's new $200 Echo Look camera will judge your outfits
Amazon today announced a new device for the Echo family: the Echo Look, a "style assistant" camera that helps catalog your outfits and rates your look based on "machine learning algorithms with advice from fashion specialists." Imagine it as a smart mirror of sorts - you can talk to the Echo Look to take full-length photos or short videos to check out your outfit from seldom-seen angles.

anthony
Amazon is utilizing their competitive advantages (the marketplace + technology) to break into new markets.
ameet
This really helps solidify the earlier point about our idealistic startups; if you're going to compete, you have to provide something really meaningful for the end user, in brand or product. It has to be something that would compel them to circumvent the convenience of Amazon and jump through whatever hoops are necessary to purchase yours, and you need to be able to find your audience wherever they live.
ameet
At the end of the day this means a lot more deals in the space and a proportionate number of deals for customers. 👗